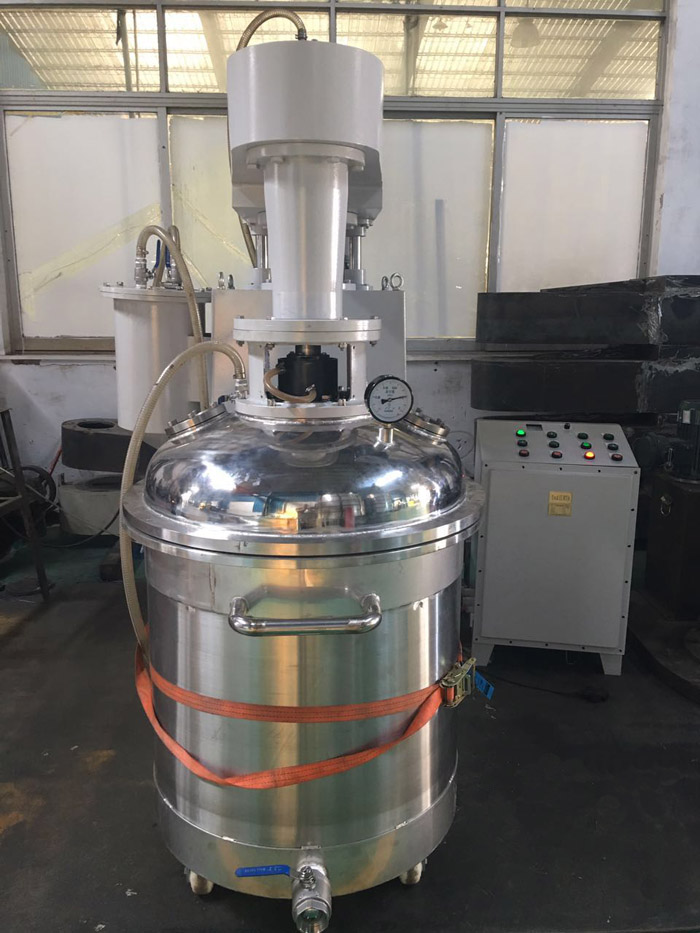 產品名稱:
Vacuum dispersing machine100L-1000L
詳細介紹:
Product Introduction:
Vacuum dispersing machine is a functional machine developed based on the standard High-speed Disperser. A closed lid, with spring seal ring mounted in a milling groove of the cover flange, is completely closed with tank and ensures no air leakage under vacuum operation surroundings.Vacuum pumps are option whose limited vacuum degree can be -0.0998mpa(20mbar). It shows excellent performance during special dispersing condition such as vacuum defoaming, vacuum charging, inert gases protection and etc.
Material Viscosity: ≤50,000 cps
Production Capacity: 50-1,000L
Applied Materials: Suitable for many kind of liquid chemicals emulsion paint, industrial paint, ink and colorants, electrics battery pastes, etc.
Application Fields: Suitable for dispersing, mixing materials in industries such as biology, pharmacy, food, paint, ink, adhesives, pigment, fertilizer, etc.
Product Features:
Drive Head A steel fabricated enclosure inside which is installed the drive assembly consisting of a set of balanced pulleys, V belts, electric motor and motor tensioning device. The drive head is of hinged type construction which can be opened for maintenance.
Main Shaft & Dispersing Disc
A SS 304 shaft duly machined and balanced is provided with a cowless disperser blade of special design for quick and efficient dispersion. The disperse blade is made from special steel to withstand high wear and tear. The shaft is installed in a bearing housing provided with taper roller bearings. Lubrication points are provided on the housing.
Lifting & Lowering
The entire drive head and shaft is mounted on a hydraulic column which can be lifted and lowered to clear the height of the vessel. The Hydraulic column comes complete with hydraulic cylinder, piston rod, power pack unit, valves electric motor and all interconnecting pipelines and hoses.
Electric Motor
TEFC motor, drives a set of pulleys and V belts. The Motor is provided with a belt tensioning device. The motor details are 380 V / 50 Cycles / 3 Phase RPM 1500
Speed Inverter
An AC Frequency inverter installed in a panel controls the RPM of the Disperser shaft from 0-1500. The inverter is provided with settings for monitoring torque, amperage, voltage, power factor etc and is PC compatible.
Electric Control Panel (Non-Ex proof)
A control panel is provided with the following functions. Main motors on off, ammeters, voltmeter, emergency stop, inverter trip, indicating lamps, speed control switch, RPM indicator. All internal wiring is per international codes of practice.
Working Principle:
Through the high speed rotation of the disc. The materials flow in annular form flow, resulting in strong vortex flow, which descend down to the bottom of the vortex in spiral state. During the process, materials are dispersed, dissolved, mixed and emulsified efficiently due to the strong shearing crash and friction among the particles. The dispersing disc produces a good radial power through the circular motion which accelerates the material circulation and improves the dispersion efficiency.
The hydraulic pump drives the hydraulic cylinder ascend and descend, which drives the whole transmission and working set up and down. During operation, the cover and tank is completely closed to realize vacuum dispersing result with help of vacuum system.